10 Reasons to choose Thailand for your next Medical Destination
Thailand is renowned for its thriving hospitality services and state-of-the-art medical facilities, with many doctors qualifying in European or American medical schools and universities.
Our partnership with a Germany-based international accreditation body makes Thailand medical travel better for everyone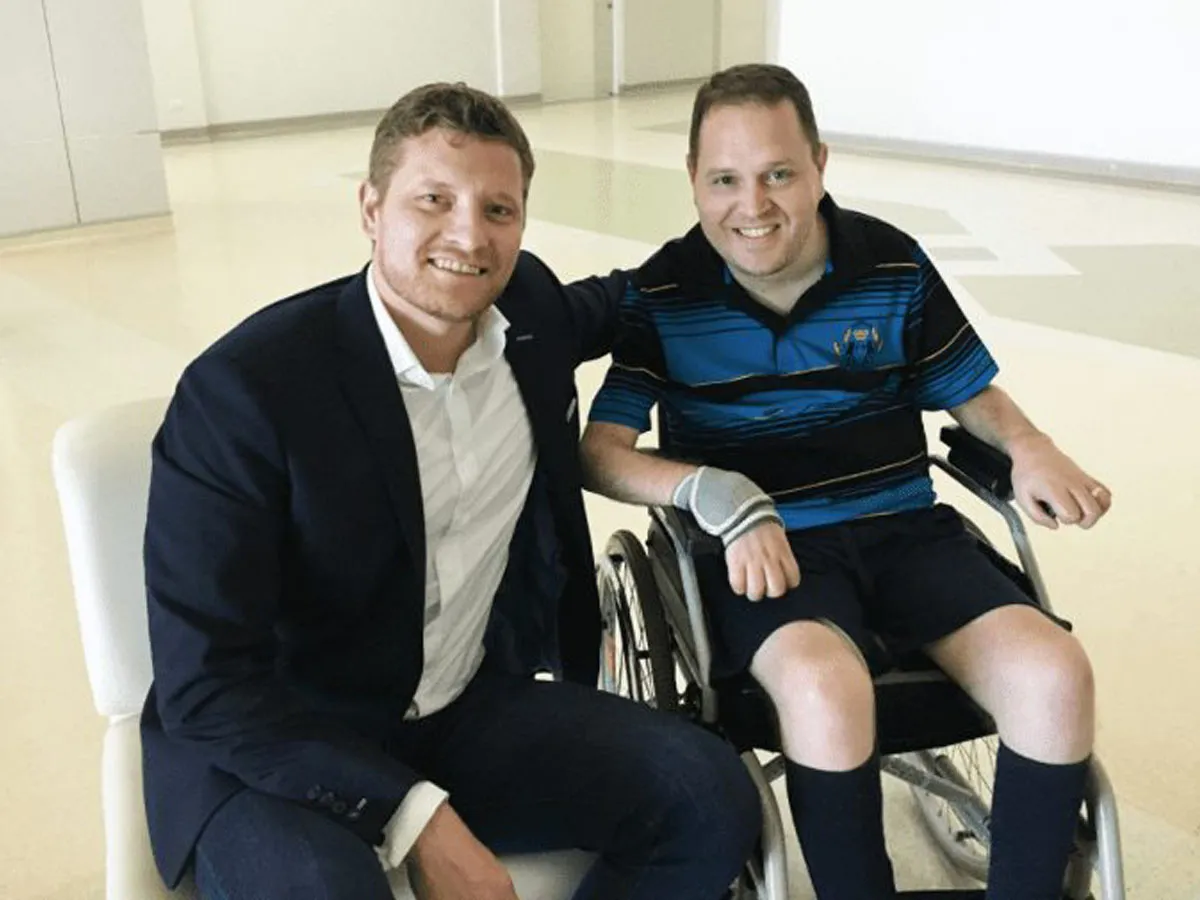 ImagineHealth's raison dêtre: The inspiring story of our dear friend Gabi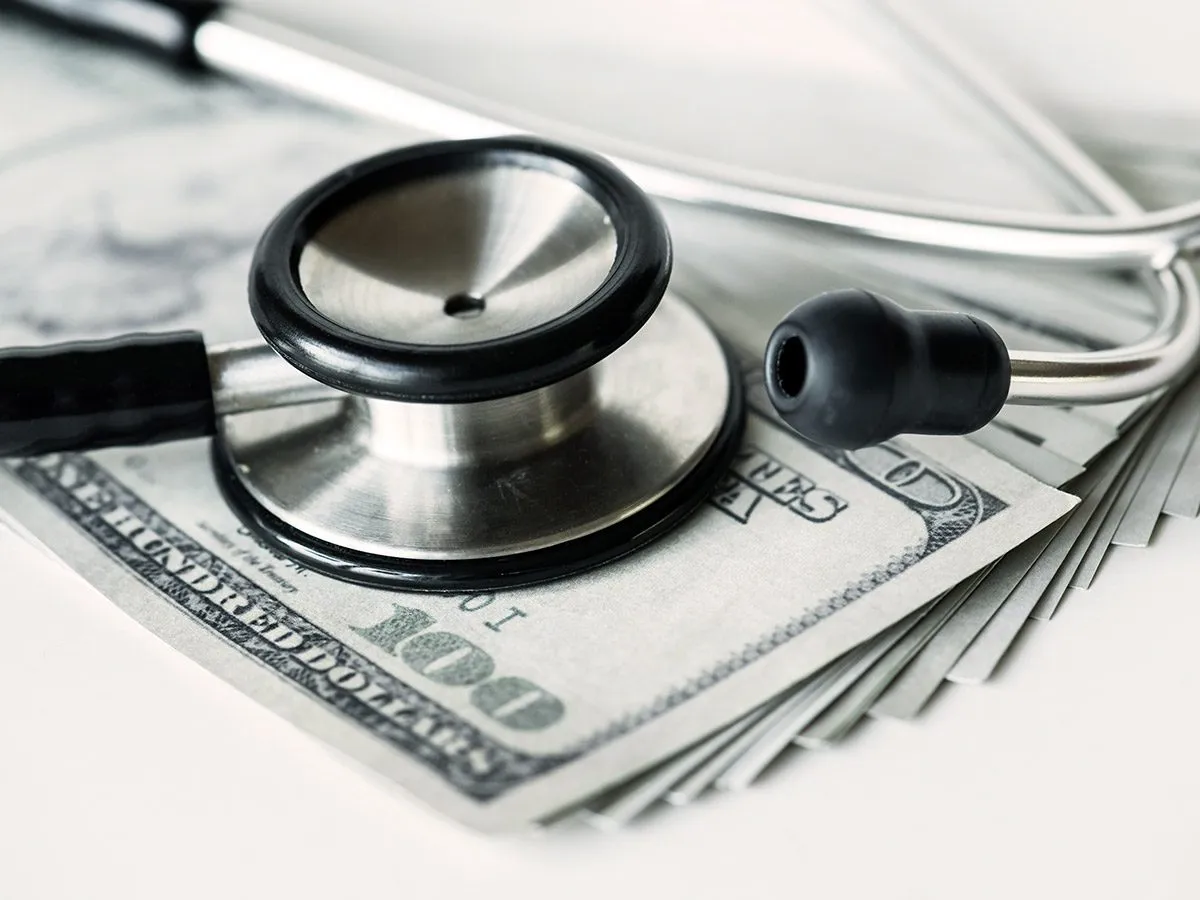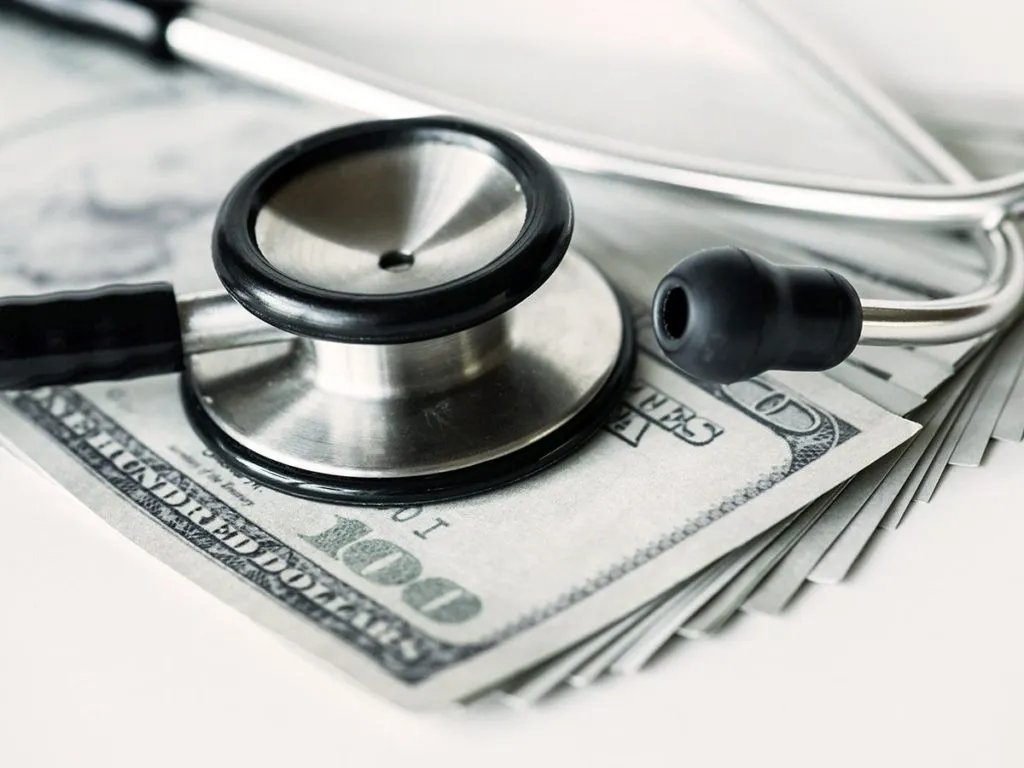 Changing the focus from cost to trust & safety in medical travel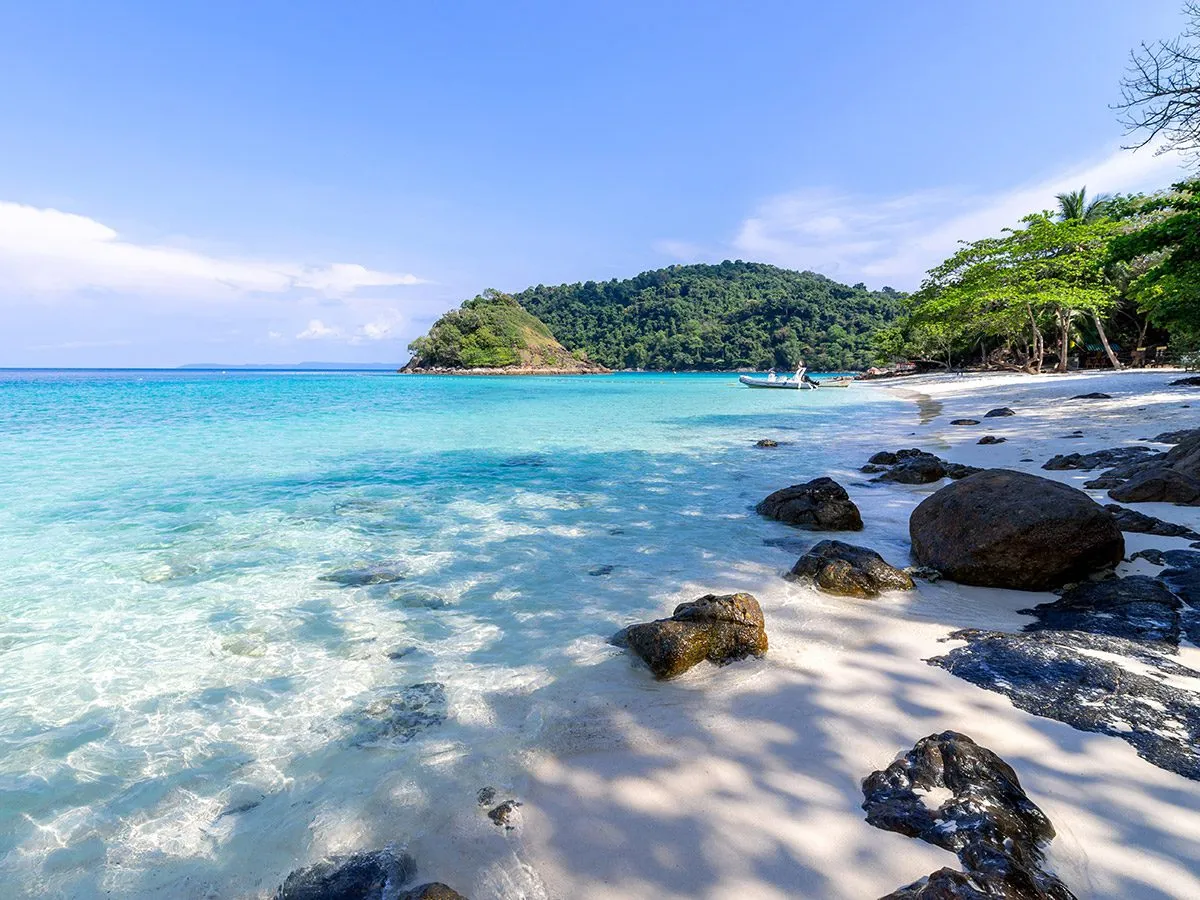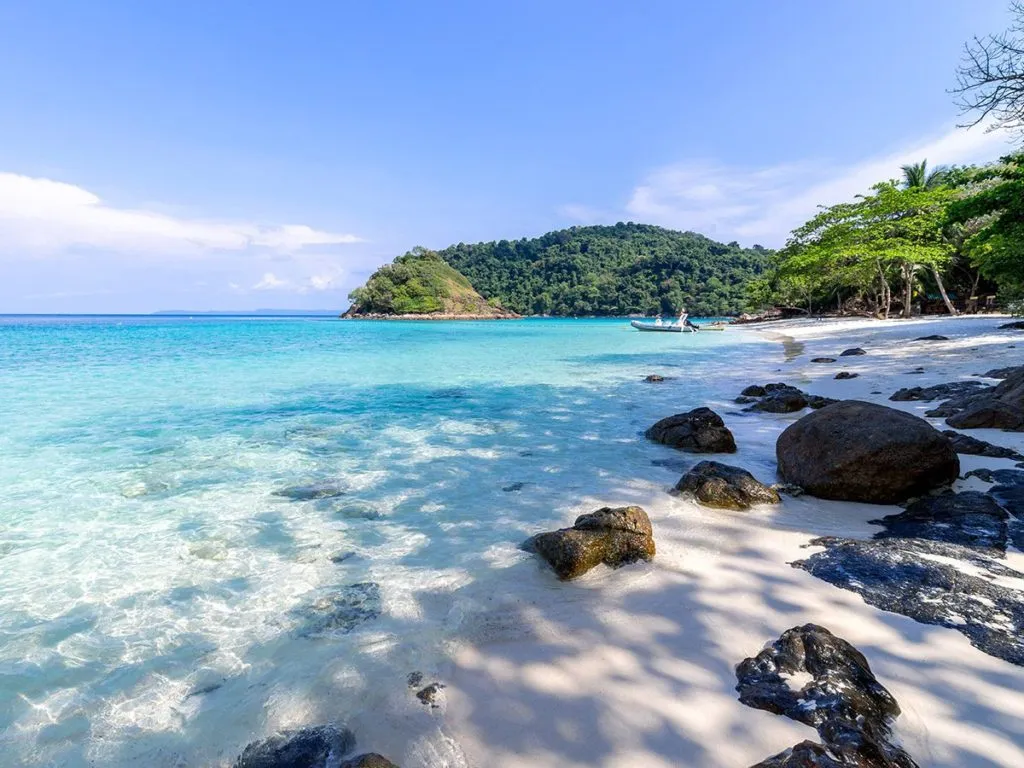 Why you should consider Thailand for your medical travel journey
World-famed as the "Land of Smiles", Thailand is renowned for its hospitality, friendly people, and unrivalled peace-loving culture
Bordered by Cambodia, Myanmar, Malaysia, Laos, the Andaman Sea, and the Gulf of Thailand, the country boasts endless white sandy beaches, mountains, cooling waterfalls, tropical rainforests, and bustling urban cities. The sub-tropical climate and year-round warmth attract millions of tourists annually. They discover diverse and abundant nature, historic royal palaces, infinite golden spires, temples and pagodas, bustling markets, dynamic people, Muay Thai, massage, wellness, health, and medical services.
According to the United Nations, Thailand is ranked the 20th largest country by population, with just under 70 million inhabitants, most of whom follow Buddha's gentle teachings. According to the Global Health and Safety Index, Thailand is ranked fifth globally and first in Asia for its capacity to respond to epidemics and pandemics, as assessed by the United States' Johns Hopkins University Bloomberg School of Public Health and experts from numerous countries.
King Ramkhamhaeng, the Great of the Sukhothai period, coined the proverb, "There is fish in the water and rice in the field," expressing the abundance of Thailand's natural resources. Thailand is known for its food with a fierce chili kick. The traditional diet of Thailand features colorful vegetables, seafood, and meats that are served with rice or noodles and seasoned with herbs and spices. Many indigenous ingredients contain excellent medicinal properties, such as lemongrass, turmeric, coriander, galangal, and Thai basil. You'll find myriad food from street hawkers, roadside stalls, local Thai cafés, and fine dining restaurants. Over the centuries, Thai food has been heavily influenced by the Middle East, Southeast Asia, and Europe, as immigrant chefs introduced spices, recipes, and cooking techniques into the eccentric mix of diverse cuisine.

Best in class Healthcare
Thailand's facilities and services are ranked in the Top 15 for worldwide medical travel

Pandemic preparedness
Thailand is placed on the 6th place for countries ready to deal with pandemics, by the Johns Hopkins University

High demand
More than 1 Million treatments are expected in 2023 for medical travelers coming to Thailand
Potted History of Thailand
Thailand is the only country in the region not to fall under colonial rule. The early 20th century saw the Thai people establish the dominant Ayutthaya Kingdom, which was constantly threatened by Cambodia, Burma, and Vietnam, and the presence of the British and French vying for colonies in Southeast Asia. In 1932, the Siamese Revolution was sparked by young military personnel and civil workers, which ended the absolute monarchy and established a constitutional monarchy overseen by the military. The Kingdom endured 60 years of military rule, sometimes with no clear leadership or direction. During World War II, Thailand's military leaders allied with Japan. Since the war, Thailand has maintained close ties with the United States, Europe, and the United Kingdom. Thailand's democratic government was formed in 1992 and continues to the present day.
Literacy sources are scarce from pre-13th century Thailand, so much of its history was sourced from archaeological sites. The Kingdom's cultural and religious influences have come from India, the Kingdom of Funan, the Khmer Empire, the Maurya Empire, the Pallava Dynasty, and the Gupta Empires of India. Between the 10th and 14th centuries, the country had a period of Khmer domination over central Thailand. The Kingdom of Ayutthaya maintained its independence for four centuries before falling to the Burmese, as other strongholds had previously done. Thonburi, home to Bangkok, was taken back by General Taksin in 1768 with his power to liberate various states from Burmese rule, resulting in the Kingdom of Siam. The Lanna Kingdom was also liberated in Northern Thailand. The most populated city is Bangkok, formerly a mysterious little village that lay on the curves of the Chao Phraya River's western banks.
Part of the pleasure of experiencing travel is understanding and respecting any cultural sensitivities, and Thailand is no different. Not only does respecting the Thai culture earn you respect, but it will also help you gain invaluable insights into the people you visit. Thailand has an array of fascinating philosophies known as 'greng-jai'. The Kingdom of Thailand is an institution of the monarchy with a history that dates back over 700 years and continues to preserve its relevance in the contemporary world. The constitutional monarchy is a guiding light and unifying force for the country and a focal point that brings together people from all backgrounds. The late Majesty King Bhumibol Adulyadej's reign involved an inimitable personal contact with his people and served as a model of kingship.
The Royal Family is much loved and highly regarded in Thailand. Today, the monarch reigns but does not rule; Thailand is a constitutional monarchy with a democratic government. Ten principles of the kingship known as 'Dasavidha-Rajadhamma' or the tradition of Theravada Buddhism encompass essential virtues such as honesty, compassion, open-mindedness, perseverance, morality, diligence, righteousness, and the willingness to give and sacrifice for the greater good. These morals still serve today as a code of conduct for the Thai monarch to meet the challenges faced by Thailand and contribute to the development and well-being of the Kingdom and its people.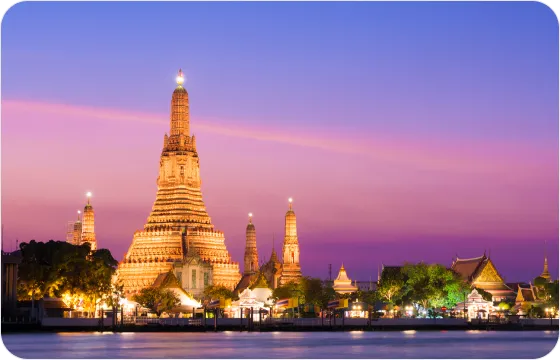 The national anthem of Thailand, entitled 'Phleng Chat', is a literal translation of 'national anthem', which was adopted just after the country changed its name from Siam. The national anthem is played on television and radio twice daily at 8 am and 6 pm. The Thais will stand for its duration to show respect to their monarchy and country; you'll hear the anthem in workplaces, markets, educational institutions, and hospitals.
Thailand enjoys a tropical climate influenced by seasonal monsoon winds. In May, the southwest monsoon brings a stream of warm moist air from the Indian Ocean into Thailand, causing abundant rain, especially in mountainous regions. The northeast monsoon, starting in October, brings cold and dry air from the anticyclone in China over significant parts of Thailand, especially those located at higher latitude areas. In the south, the monsoon causes mild weather and plentiful rain along the eastern coast. The Inter-Tropical Convergence Zone intensifies between May and October, and tropical cyclones produce a large amount of rainfall. Mean annual rainfall is 1,200 to 4,500 millimeters, with lower totals on the leeward side and higher on the windward side. The mean temperature is 26.3 degrees Celsius in the north and 27.5 degrees Celcius in the southern and coastal areas.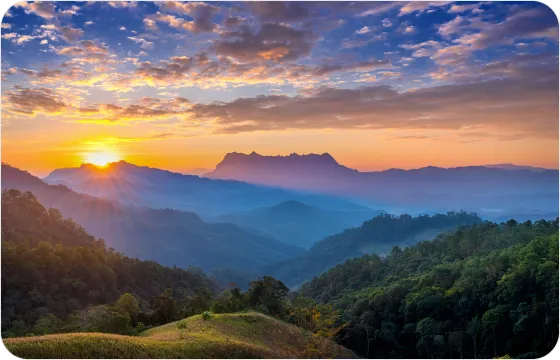 Thailand is 1,620 kilometers from north to south and 780 kilometers from east to west and has the most diverse landscapes and climate in Southeast Asia. With a kaleidoscope of cultural and historical sites, it boasts tropical rainforests, breathtaking limestone cliffs and islands, rich marine diversity, and modern urban landscapes. Visitors enjoy exploring the forested mountains and verdant valleys in the north, fertile agricultural areas in the central plains, beautiful islands, and an extensive coastline in the south. The unique flora and fauna, tropical fruits, hardwood trees, bamboo, and flowers make it a destination like no other.
The largest islands of Phuket and Koh Samui offer tasteful resorts in unspoiled environments, endless beaches, and wildlife enjoyed by visiting or long-term Europeans. Nearby Koh Phangan attracts the younger generation and those seeking holistic health and yoga with its cost-efficient beachside resorts. Further north in the Gulf of Thailand, Koh Tao has some of the best diving sites in Thailand. Finally, the Andaman Sea is home to the highly protected Similan, Surin, and Tarutao marine parks, an archipelago of underwater beauty.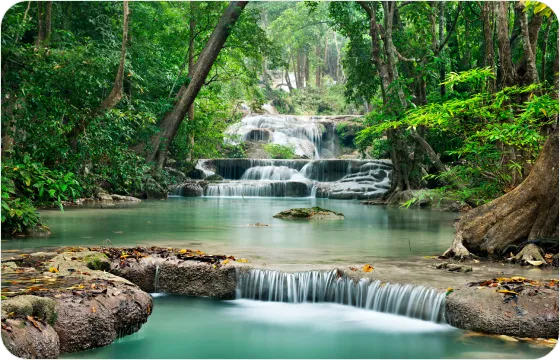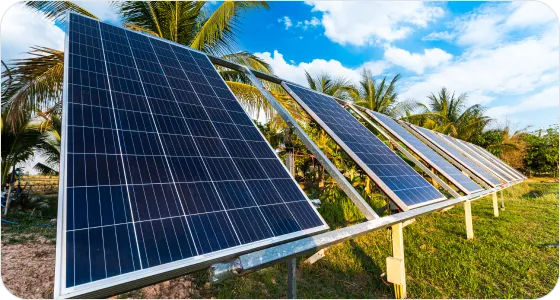 The 17 Sustainable Development Goals, SDGs, are interconnected targets from the United Nations to provide a blueprint to achieve a better and more sustainable future. The goals were approved by the UN General Assembly, UNGA, in 2015, aiming for countries to reach them by 2030. According to the Sustainable Development Report and the SDG Index in 2022, Thailand leads all other countries in Southeast Asia in the drive to achieve the United Nations' sustainable development goals. In the latest UN report on countries' progress towards achieving the goals, Thailand scored 74.1 percent. It was assessed as being on track to achieve the SDGs in poverty, education, clean water and sanitation, industry innovation and infrastructure, and responsible consumption and production. In addition, the Kingdom of Thailand has improved good health and well-being, gender equality, affordable and clean energy, decent work and economic growth, and reduced inequalities.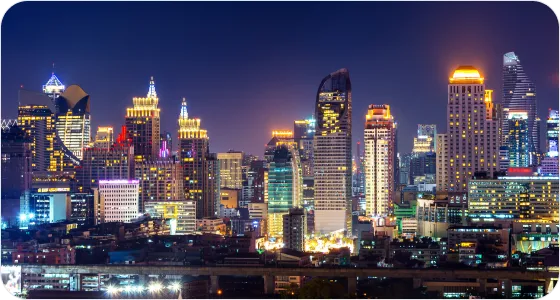 The Kingdom of Thailand is Southeast Asia's second-largest economy, with a gross domestic product, GDP, of US$ 500 billion. With the growing private sector and middle-class residents, the Thai economy is well integrated into the global marketplace, with exports amounting to over 70 percent and a growing services sector showing that tourism is on the rise. With its favorable investment climate, entrepreneurial attitude, and open society, many businesses and international firms have chosen Thailand as their base. The Kingdom's expanding networks of free trade agreements with other countries have opened trade access to global markets and a regional center for travel. Thailand is a significant player in the Association of Southeast Asian Nations, ASEAN, enjoying easy access and connectivity to over 660 million people from the surrounding nations, China, India, Japan, and the Republic of Korea.
The Thai language is challenging to master, but Thai people are delighted to help foreigners learn a few words to help them get around. While the official Thai language is spoken throughout the country, many Thais also speak and understand English, particularly in Bangkok and the major tourist areas such as Phuket. The hospitality and medical industries throughout the country communicate with an excellent command of English. You'll find that most Thai nationals are adept at using software such as Google Translate so that you can communicate with ease. ImagineHealth will provide a translator if you prefer.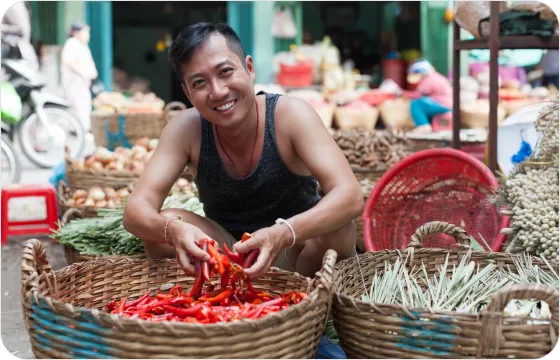 Thailand was the first country outside China to detect COVID-19 in January 2020. The government immediately responded by introducing a mechanism to detect and prevent virus transmission. Throughout the global pandemic, Thailand promoted the widespread adoption of innovation, technology, and supportive policies to resume trade, commerce, and investment. The innovative application, Moh Prompt, was developed by Thailand's Ministry of Public Health, affording information about vaccines, tracking vaccinated people, and booster schedule.
Throughout 2021, mass vaccination programs inoculated at least 70 percent of the population, 50 million people, with AstraZeneca, Sinovac, Johnson & Johnson, Moderna, Sinopharm, and Pfizer. The government's effective roll-out of the vaccination followed research from Chulalongkorn, Mahidol, and Naresuan universities using the MRC Centre of Global Infectious Illness Analysis model from the Imperial College London. Once travel became accessible, the government added the Thailand Digital Health Pass to Moh Prompt to accommodate European Union entry requirements.
The Thailand government and various medical institutions, including BioNet-Asia and Baiya Phytopharm companies, constantly work towards becoming the medical hub of Asia by supporting investment into pharmaceutical products, medical food, supplements, equipment, and devices. The government adopted the ongoing Smart Control and Living with COVID-19 policy to support various initiatives. The Universal Coverage for Emergency Patients ensured that any person impacted by COVID-19 could access medical care at their convenience.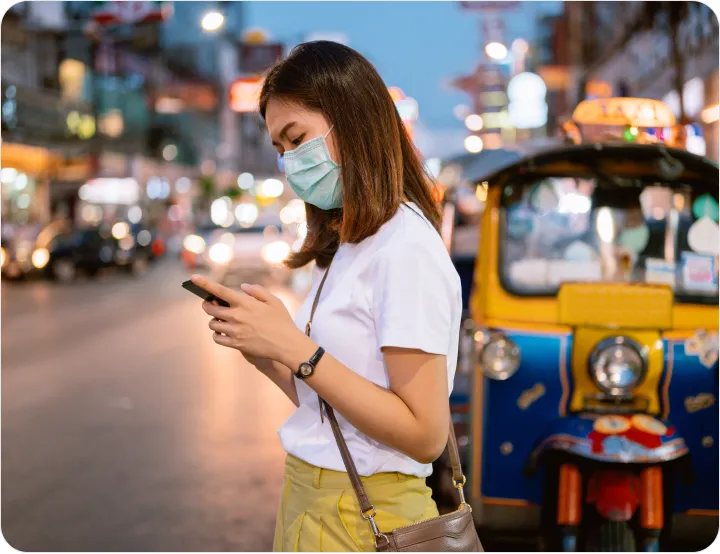 In the post-pandemic era, Thailand is positioning itself as a global hub for healthcare tourism.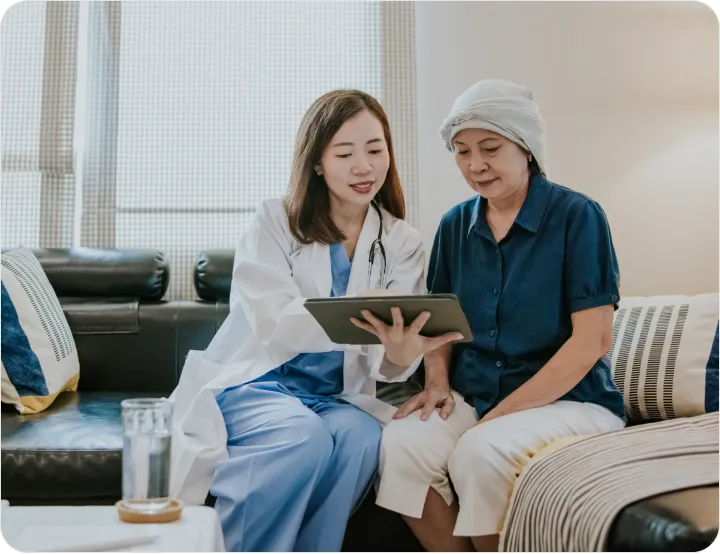 The country is a world-class destination for medical treatments, with hospital operators such as Bumrungrad Hospital and Bangkok Dusit Medical Services leading the efforts and partnering with medical organizations like ImagineHealth. In addition, the Kingdom has started issuing one-year visas to people seeking medical treatments, allowing foreign patients to fly in and out of the country, granting them to stay up to 90 days at a time.
The tourism industry is already seeing a positive recovery. It will power growth in international arrivals in 2023 now that the government has written off any travel COVID-19 restrictions. Medical visa applicants must produce evidence of a hospital appointment, health insurance, and adequate financing for treatments covering at least THB 800,000 (US$ 23,000). The medical visas will be restricted to patients that require continuous treatment for more than 90 days. Hospitals must outline a solid treatment plan and expenses for the applicants. Applicants can seek an extension beyond one year when they provide the necessary medical certificates. Treatments for cancer, cardiovascular disease, organ transplants, anti-aging, and cosmetic surgery should qualify for the new visas.
Overall, Thailand is a very safe and friendly country. Crimes rarely involve tourists; however, as in any other country, you should take care when traveling in unfamiliar areas, particularly at night. Unfortunately, Thailand has relatively high traffic accidents caused by excessive speeds, not wearing seatbelts, and excessive alcohol consumption. The Department of Disaster Prevention and Mitigation, Ministry of Interior coordinates, legislates, evaluates, and monitors road safety strategies to reduce road traffic accidents. Over recent years, there have been rare instances of civil and political unrest, so it's crucial to avoid protests, demonstrations, and political gatherings. Criticism of the monarchy in any form, lèse-majesté, is a crime, so it's important not to portray Thailand negatively, defame or make accusations about individuals; it could result in criminal charges. You must report any crimes to the Thai police while still in the country.
Thailand hopes to secure science, technology, and innovation in the SME sector to assist its post-pandemic economy. Historically, the country has relied on tourism, which abruptly halted with the onset of COVID-19. Post-pandemic, the Thai government strives to encourage research and development and let innovation lead the way by investing in economic structural reform and public sector innovations to increase productivity, efficiency, and values. ImagineHealth is always up-to-date with healthcare innovations, new hospitals, and services that benefit your holistic health. The government focuses on providing clear directions to tackle the challenges in society and the economy. Several state agencies are already working to support research and development, including the National Science and Technology Development Agency, Programme Management Unit for National Competitiveness Enhancement, the National Innovation Agency, and the Innovation and Technology Assistance Programme.
Innovation and Technology
Innovation Thailand is a national assembly for innovation advocacy. They aim to help the country reach the top 30 in the Global Innovation Index to solidify it as an international solution and innovative nation contributing to social and economic transformation. The platform showcases economic systems that promote revenue and job creation to social tools that eliminate inequality and protect the environment. It's founded on a countrywide network of contributors, including educational institutions, civil societies, private organizations, and public agencies, to develop Thailand for global commercial and social markets. Their data-driven dashboard is an overview of the country's innovation potential. Through their Innovation for Crafted Living program, they have created solutions based on Thai wisdom to improve quality of life, such as the environment, health, wealth, society, and safety. ImagineHealth is your trustworthy partner who understands the sometimes complex nuances of healthcare providers and innovative treatments available to you across Thailand. Its international team will guide you through each available offering with precision and care.