For each step of your medical journey, ImagineHealth ensures that it is as seamless and stress-free as possible.
From arrival and travel assistance to shopping and exploration, these are the answers to the most frequently asked questions for your upcoming medical trip.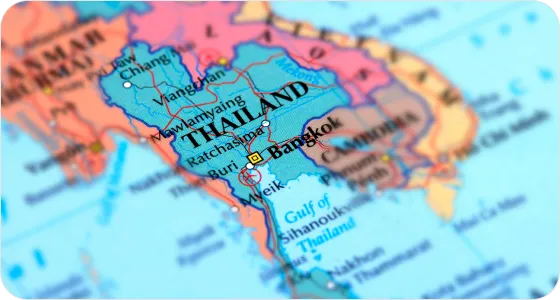 Known as 'The Land of Smiles', Thailand is formed of more than 400 islands and is located in the heart of mainland Southeast Asia.
Bordering Malaysia, Myanmar, Cambodia, and Laos and spanning approximately 513,120 km², it occupies a coastline along the Gulf of Thailand and the Andaman Sea – a tourist dream, welcoming more than 39 million visitors in 2019.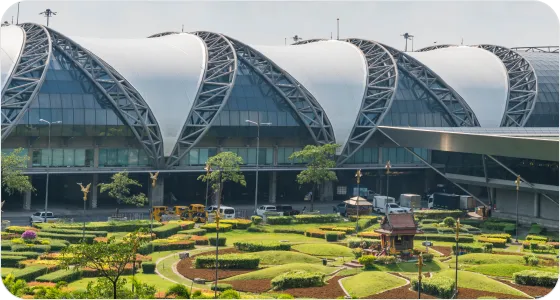 Thailand is most easily accessed by flying, and the popular national airline operators are Thai Airways and Bangkok Airways.
The country's key airports are the Suvarnabhumi International Airport, the Don Mueang International Airport in Bangkok, and Phuket International Airport in Phuket. Airport transfers can be arranged by ImagineHealth or through one of the city's local taxi services upon arrival.
Important Travel Documents
In addition to the usual travel essentials, including your passport, copies of essential documents, and travel money – other mandatory documents include:
You must have the relevant visas in place. You can apply for your visa directly. ImagineHealth will assist you in obtaining a medical visa (if required).
This is compulsory and must cover certain aspects of your medical care in some cases. ImagineHealth will guide your insurance requirements.
Depending on your medical condition(s), you may be required to produce a 'Fit to Fly' document that allows seamless aircraft boarding and entry. Again, this is something that ImagineHealth will guide you on according to your medical requirements.
Depending on your requirements, you may require additional services during your medical trip to Thailand. ImagineHealth can organise this on your behalf or recommend the highest quality services according to your budget.
Services to consider include:
Caregiving and nursing support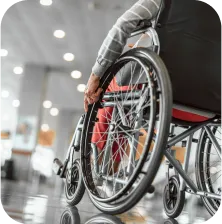 Transportation (Wheelchair accessible)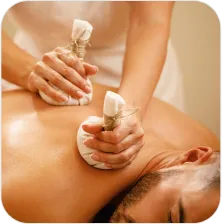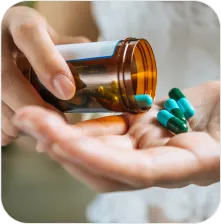 Herbs & medicine shop assistance
Accessibility throughout Thailand can be challenging for people with reduced mobility. However, with advanced preparation and support from ImagineHealth, getting around accessibility challenges can be arranged to ensure that the trip goes as smoothly as possible.
Keep the below tips in mind when planning your itinerary:
The streets and pavements are uneven, and few buildings provide accessible facilities, so consider transportation as a means of getting around and ensure that the places you choose to stay provides such access.
Public buses and Sky Train (BTS) aren't equipped for wheelchairs, and taxi drivers lack training in handling a wheelchair. Private transport with accessible facilities and drivers equipped with the knowledge to help you safely enter and exit the vehicle can be arranged for the duration of your stay.
The main airports don't provide extensive accessible facilities or services – though help is available when asked. Try to seek support from your airline and ensure that extra time is added to the itinerary for airport navigation.
Ensure that your accommodation is wheelchair friendly and accessible and has the facilities for evacuation in an emergency.
There are plenty of options for traveling around Thailand and Apps to support you on your trip. The most popular form of transport in Bangkok is the Sky Train (BTS) and the plethora of colorful Taxis and Tuk-tuks that line the streets with their distinctive sounds.
If you do have reduced mobility, private car transfers are advised and should be booked in advance to ensure smooth maneuvering through the city. Again, ImagineHealth can assist in this or recommend quality service providers.
The most popular forms of transport include:
Like most destinations that are unfamiliar to you, there are different dangers to look out for when traveling to Thailand.
Thailand is a beautiful place to visit with friendly locals and a wealth of cultural, nature, and wellness-led experiences; however, it is essential always to remain vigilant and safe.
These tips may be helpful before and during your stay: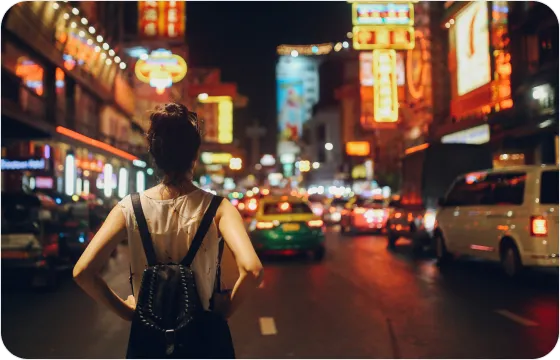 Use the hotel's security facilities to store money and valuable items. Avoid carrying too much cash with you and always leave a spare card or cash reserves at your hotel in case all your personal belongings are lost or stolen whilst out and about.
Don't hand your passport over to third parties as a guarantee (motorcycle or jet ski rental, for example).
Protect your Credit Cards
Be mindful of credit card fraud – never leave cards unattended during transactions and be vigilant of unusual activity at ATMs.
Drink spiking can happen in Thailand – always be mindful of your surroundings and don't leave your food or drinks unattended. 
If traveling alone, ensure that the hotel or a trusted person knows your whereabouts and when to expect you to return to the hotel.
If a crime is committed in Thailand, report it to the authorities before you leave the country, or else it may not be investigated.
Thailand offers a relaxed and open-minded way of living. It does, however, enforce several laws that may be unfamiliar to the rules in your own country.
These are some of the fundamental laws to abide by while visiting as a tourist in Thailand:
Don't touch people's heads – culturally, it is seen as disrespectful
Don't touch the monks – they are the most respected people, and doing so is forbidden
Be mindful of your feet – don't point their souls at temples or use your foot to close the door, kick things, step on sacred things, etc. Take your shoes off when visiting homes, temples, and some shops – usually, you would see a place to keep shoes if you expected to remove your footwear.
Don't buy or take illegal narcotics – drugs are forbidden and carry harsh sentences
Don't overstay the visa – these carry heavy penalties.
First-time visitor essentials
Central Thai is the primary language spoken, with multiple regional dialects. English is widely spoken in the urbanized and tourist areas but less so in the more rural parts of Thailand.
Thailand follows UTC/GMT +07:00
The local currency is Thai Bhat, and cash and card payments are widely accepted.
There is decent access to currency exchange services in Bangkok, and less so in the more remote parts of Thailand. However, major hotels, banks, and malls offer these services and the airport and specialist outlets.
Thailand is highly connected with multiple hotspots and Wi-Fi available in most public spaces and urban areas. You may purchase a "Tourist-SIM Card" for your time in Thailand and remain accessible 24-7 for your friends and family back home.
Tipping for the purchase of products is not necessary, however, tipping for service is at your discretion and as a standard between 5 – 15% of the bill.
Established shops sell their goods and services at a fixed price, however, markets, some local taxis and tuk-tuks and other services can be negotiated.
Between November and early April is arguably the best time to visit Thailand. It's the driest and warmest time of the year, with temperatures between 32 and 36◦c and up to nine hours of sunshine a day. If you're traveling in the summer, ensure that you choose a hotel with air conditioning or fan facilities, as the heat can sometimes become intense in a city setting.
The rainy season is between July and October, when temperatures are cooler at around 29◦c and peak humidity.
It is highly recommended that you drink bottled/filtered water in Thailand and avoid ingesting it while swimming, bathing, and showering. The water is not treated to the standard that many tourists are used to and can cause illness.
There are myriad experiences to discover during your trip to Thailand, and Imagine Health supports you at each stage of your leisure adventure. Providing support with accessible entry, transport, care, and logistics – you can make the most of your medical trip with some memory-making.
There's an abundance of shopping experiences – from the extensive markets and individual boutiques to the skyscraper malls in Bangkok. Most stores in Thailand are open from 10am until 8pm – 10pm.
Thailand has strict customs laws, and items such as counterfeit goods, ceramic tableware, and cultural artifacts are prohibited from being exported. Therefore, check the laws surrounding any purchase that you make before attempting to check in at the airport.
Thailand is the cultural capital of Asia and offers a lifetime worth of cultural discoveries to explore. According to TripAdvisor, these are Thailand's most frequented cultural hot spots: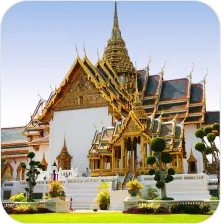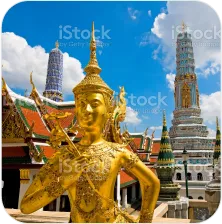 Temple of the Emerald Buddha (Wat Phra Kaew)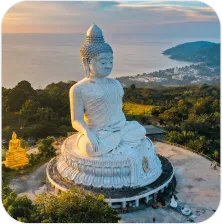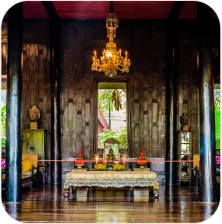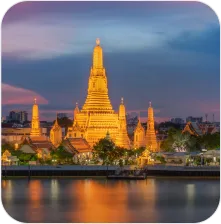 With more than 400 islands to discover, these are Thailand's most popular places to visit: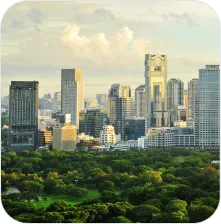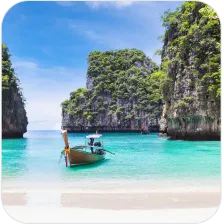 The most visited beach getaway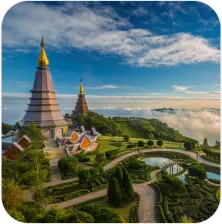 Home of more than 500 temples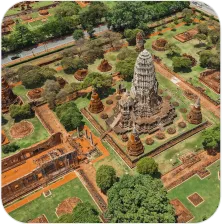 Thailand's most splendid architectural and historical sites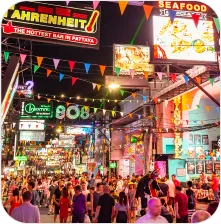 A lively nightlife and party capital
Bangkok and Chiang Mai are the country's culinary capitals boasting the best gourmet Thai restaurants and international cuisines that Thailand offers.
Discover a range of dining options with street food, casual dining, and fast-food and gourmet restaurants.
The main dishes to try include: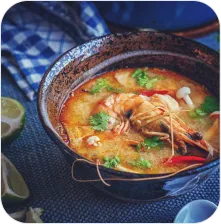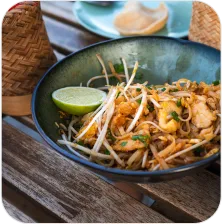 Thai style fried rice noodle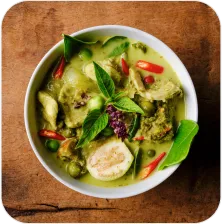 Green chicken curry of Thailand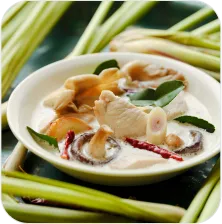 Chicken in coconut milk soup)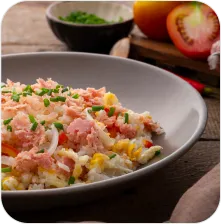 From five-star luxury hotels to affordable boutiques, wilderness escapes, island resorts, and more – ImagineHealth can organize a range of accommodations to suit your budget and requirements.
Whether you are visiting Thailand for your treatment only or making the most of the trip with leisure and entertainment experiences – ImagineHealth will present a hand-picked selection of hotels and added services for you to choose from to suit all access, medical and nursing requirements.
If you organize your own accommodation, check the distances and times for private and public transport services. The main cities can get very congested during peak hours – so ensure that you factor this into your decision.